PN532 is a highly integrated non-contact read-write chip, which contains the 80C51 microcontroller core (this 8051 user cannot program it, it is a low-level communication protocol stack for built-in NFC), which integrates each of the 13.56MHz an active / passive contactless communication method and protocol.
Supports 6 different working modes
Reader mode, support ISO / IEC 14443A / MIFARE Mechanism
Reader mode, supports FeliCa mechanism
Reader mode, support ISO / IEC 14443B mechanism
Card operation mode, support ISO 14443A / MIFARE Mechanism
Card operation mode, FeliCa mechanism
ISO / IEC18092, ECM340 point-to-point
This is a NFC motherboard based on PN532 operating in the 13.56MHz frequency range. It supports three communication interfaces: I2C, SPI, and UART.
NFC (Near Field Communication) is a wireless technology allows contactless point-to-point data communication between devices within a short distance of 10 cm. It is widely used in applications such as access control system, smart tickets, meal card, etc.
Based on the popular NFC controller PN532 with multi interface options, this motherboard will easily enable NFC function for your Raspberry Python/C, STM32, Arduino.
FEATURES
Standard Raspberry Pi 40PIN GPIO extension header, supports Raspberry Pi series boards

Onboard PN532 chip, supports various NFC/RFID cards like MIFARE/NTAG2xx, etc.
Three interface options: I2C, SPI, and UART, configured via jumpers and switches
Breakout control pins, for easily connecting with host boards like STM32/Arduino

Comes with development resources and manual (examples for Raspberry Python/C, STM32, Arduino)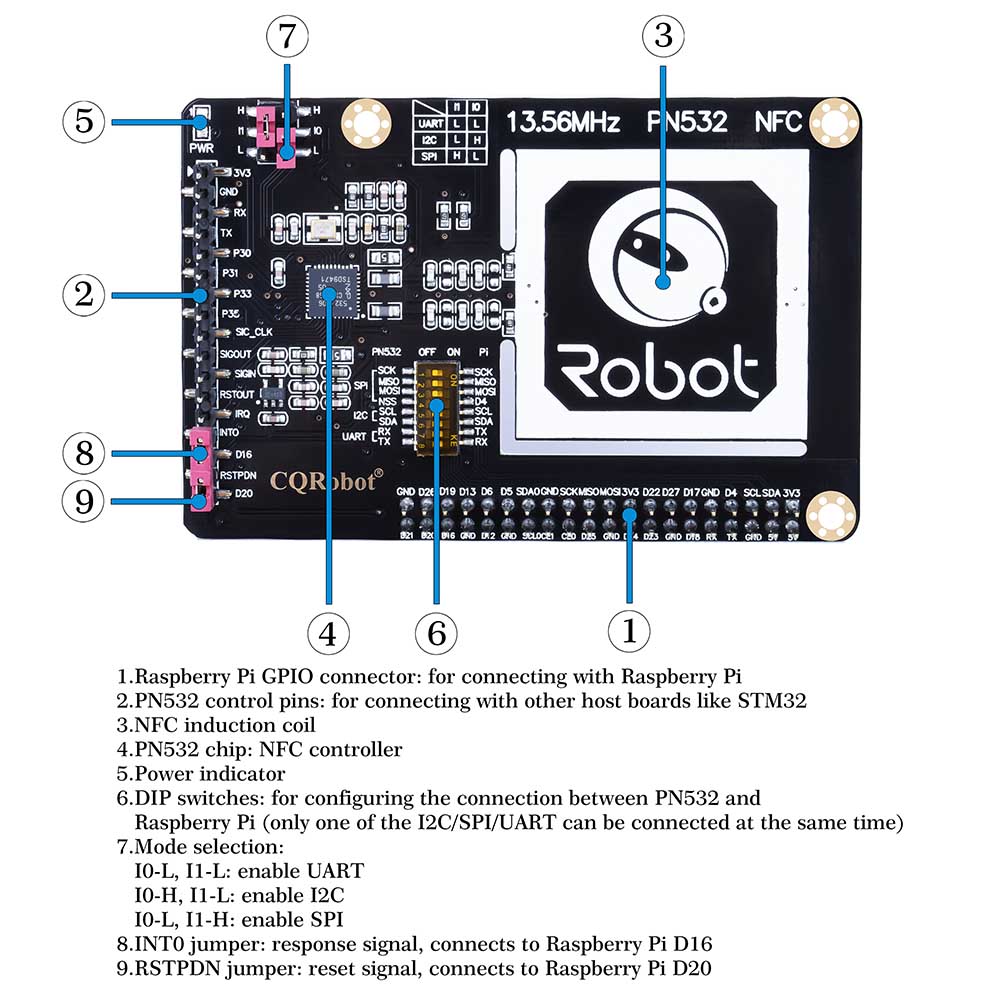 SPECIFICATION
NFC Controller: PN532
Operating Voltage: 3.3V/5V
Operating Frequency: 13.56MHz
Communication Interfaces: I2C, SPI, UART (default)
Default Baudrate: 115200 bps
Wiki: http://www.cqrobot.wiki/index.php/13.56MHz_PN532_NFC
SHIPPING LIST
1 * 13.56MHz PN532 NFC Expanding Board
1 * MIFARE Classic 1K Card
1 * MIFARE Classic NFC Tag Sticker(Round)