Contact Water / Liquid Level Sensor
CQRobot Contact Water/Liquid Level Sensor, This is a photoelectric water liquid level sensor that is operates using optical principles. The advantages of this photoelectric water liquid level sensor are good sensitivity and no need for mechanical parts - meaning less calibration! The corrosion resistant probe is easily mounted and can handle high temperature and high pressure.
This sensor probe is small in size and has a structure that can be placed up, down, laterally, and diagonally in multiple orientations to detect solution spillage, dryness and horizontal level. Can be used as a reminder and alarm function. Built-in emitter diode and phototransistor for long life. The live parts are completely isolated from the controlled liquid, and there is no safety hazard. Connect the sensor's 3-Pin cable directly to the microcontroller, such as the Arduino motherboard, and the signal terminal (Green Line) collects digital signals to determine if the sensor senses liquid. At the same time, the sensor is compatible with the Raspberry Pi motherboard, we provide the corresponding Raspberry Pi connection method and test code.
The sensor has a DIP switch. The DIP switch controls the output voltage (High Level) of the signal terminal (Green Line). When the DIP switch is dialed to 5V, the high level is 5V. When the DIP switch is dialed At 3V, the high level is 3.3V. The sensor detects that the liquid signal end (Green Line) is high and does not detect that the liquid signal end (Green Line) is low.
Note: Avoid placing the sensor near bright lights or in direct sunlight as these can cause interference.
Wiki: http://www.cqrobot.wiki/index.php/Liquid_Level_Sensor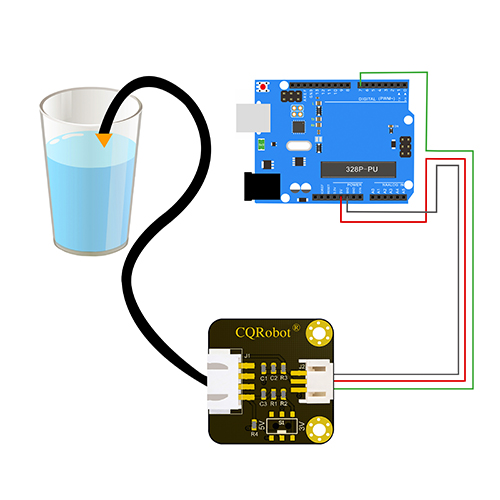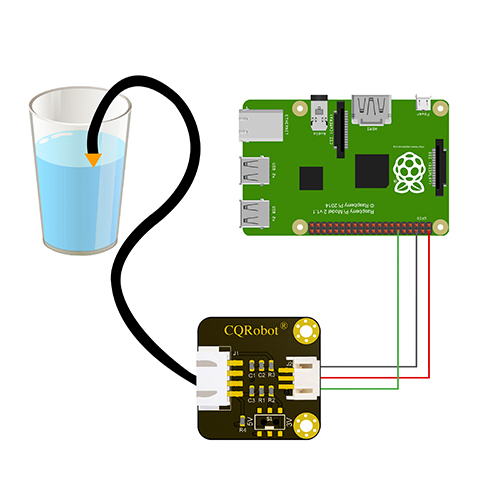 SPECIFICATION
Type: Photoelectric Level Switch
Power Supply Voltage: DC 5V
Output Current: 12 (mA)
Working Temperature: -25 Degree Celsius to +105 Degree Celsius
Low Level Output: Less Than 0.1V
High Level Output: 3.3V or 5V (Dial Switch Control)
Liquid Level Detection Accuracy: Plus/Minus 0.5mm
Material: PC
Measuring Range: NO Limit
Life: 50,000 Hours
Scope of Application: Water Level Control and Protection of Electrical Products
Probe Line Length: 50cm
Dimension: 30mm * 30mm
Mounting hole size: 3.0mm
DISTRIBUTION LIST
1* Liquid Level Sensor Probe
1* Liquid Level Sensor Adapter
1 * PH 2.0 3-Pin Cable
Unlimited Blocks, Tabs or Accordions with any HTML content can be assigned to any individual product or to certain groups of products, like entire categories, brands, products with specific options, attributes, price range, etc. You can indicate any criteria via the advanced product assignment mechanism and only those products matching your criteria will display the modules.
Also, any module can be selectively activated per device (desktop/tablet/phone), customer login status and other criteria. Imagine the possibilities.